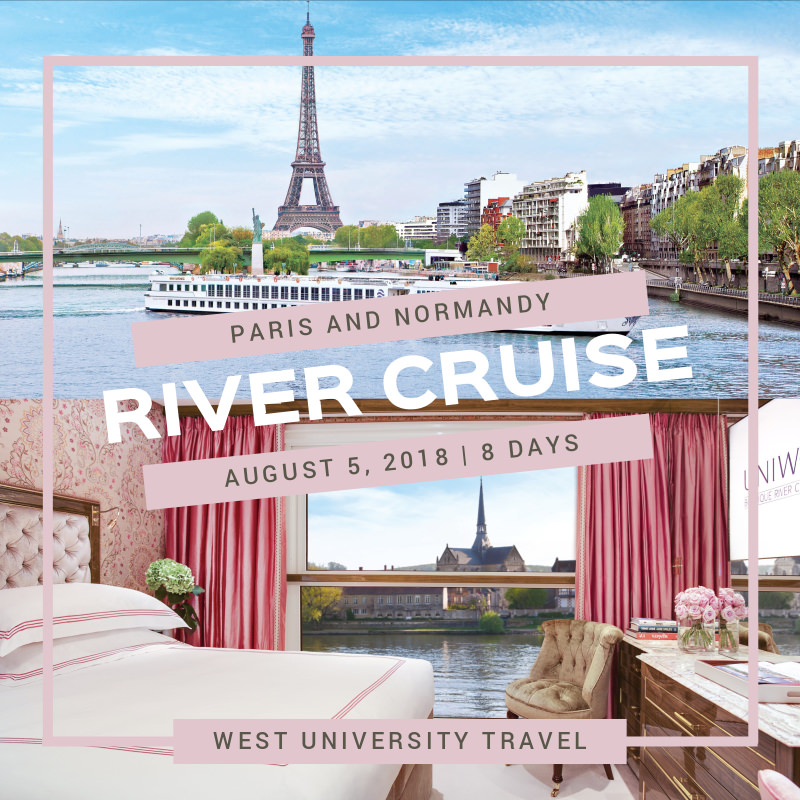 Paris & Normandy Uniworld River Cruise
Paris to Paris ● 8 Days ● August 5 - 12, 2018
West University Travel has partnered with Uniworld Boutique Cruise Collection to offer exclusive benefits on this sailing. Live like a Parisian on this roundtrip journey from Paris, while savoring the charming countryside of Normandy in between. To reserve your space as part of the group, please fill out the contact form below. You will then be contacted by a West University Travel Advisor to obtain payment information and confirm your booking.
While our form is designed to make reserving your spot on the trip an easy process, we understand that it has some limitations. If you have additional questions, or prefer not to fill out the contact form below, you may contact West University Travel directly - info@westutravel.com or 713-665-4767
Trip Itinerary
Sunday, August 5th - Paris (Embark)
Welcome to Paris! Arrive at Paris Charles de Gaulle Airport and transfer to the ship.
Monday, August 6th - La Roche-Guyon, Vernon (Giverny)
Today is a celebration of Northern France's natural beauty, with an excursion to a splendid chateau and gardens situated in an equally grand setting, plus a chance to immerse yourself in the very landscapes that inspired Impressionist master Claude Monet. Visit the hilltop Chateau La Roche-Guyon, surrounded by beautiful gardens and offering sweeping views over the Seine. Later, you can visit the home and gardens of Impressionist master Claude Monet—the inspiration for many of his most beloved works. Or, take in the beautiful French countryside in a more invigorating way, with a guided bike ride from Vernon to Giverny.

This evening, a special Captain's Welcome Reception and Dinner will be prepared for you.
Tuesday, August 7th - Rouen
Walk in the footsteps of greatness in Normandy's medieval capital, a city with a historic quarter that remains amazingly intact. From the cathedral Monet painted dozens of times to the cross marking to spot where Joan of Arc was martyred, Rouen is a treasure trove for the culturally curious. The medieval capital of Normandy, Rouen has managed to preserve much of its historic core, despite being turned into a battlefield numerous times. The roll call of famous people who lived or died in Rouen is long and varied— Richard the Lionheart, Joan of Arc, Gustave Flaubert and Claude Monet are among them.
Wednesday, August 8th - Caudebec-en-Caux (Honfleur or Étretat)
Golfing? On a river cruise? This delightfully unexpected excursion—a Uniworld exclusive—features a dramatic links course set atop Normandy's Alabaster Coast. In a word, magnifique. Not into golf? Stroll through seaside Honfleur, captured on canvas by generations of artists. Caudebec, a lovely little town on a serene loop of the Seine, is your base for one of two very different excursions. You could drive through the beautiful Calvados countryside to Honfleur, a delightful seaside harbor and city of painters, or head to the windy cliffs of Étretat for a game of golf.
Thursday, August 9th - Rouen (Normandy Beaches)
The Normandy coast will forever be associated with the Allies' D-Day invasion, a day that comes vividly to life today on an excursion to the beaches of 1944. Or travel even further into the past with an up-close look at the thousand-year-old Bayeux Tapestry, depicting the Norman conquest. Immerse yourself in the tactics, desperate courage and horrendous human cost of the 1944 Allied invasion of France, the first step in the ultimately victorious land campaign against the Third Reich. It began here, on these Norman beaches, each of which was assigned a code name by the Allies as they planned their attack.
Friday, August 10th - Mantes-la-Jolie (Versailles)
How did France's rulers live over the centuries? Step into the private rooms of either the Palace of Versailles, the lavish palace built by the Sun King, or Château de Malmaison, home to Napoleon Bonaparte's Empress Josephine, to find out.

A special Captain's Farewell Reception and Dinner will be prepared for you this evening.
Saturday, August 11th - Paris
Whether you're a first-time visitor to the "City of Light" or you've been here many times before, there's something for everyone today in Paris. Enjoy a panoramic overview of the city, join a local expert for a walk through two much-loved neighborhoods, or pedal your way along the Left Bank, a fresh and fun way to take in the sights.
Sunday, August 12th - Paris (Disembark)
Disembark the ship, and transfer to Paris Charles de Gaulle Airport for your flight home. Not ready to leave yet? Ask our advisors for help extending your time in Paris or another European city!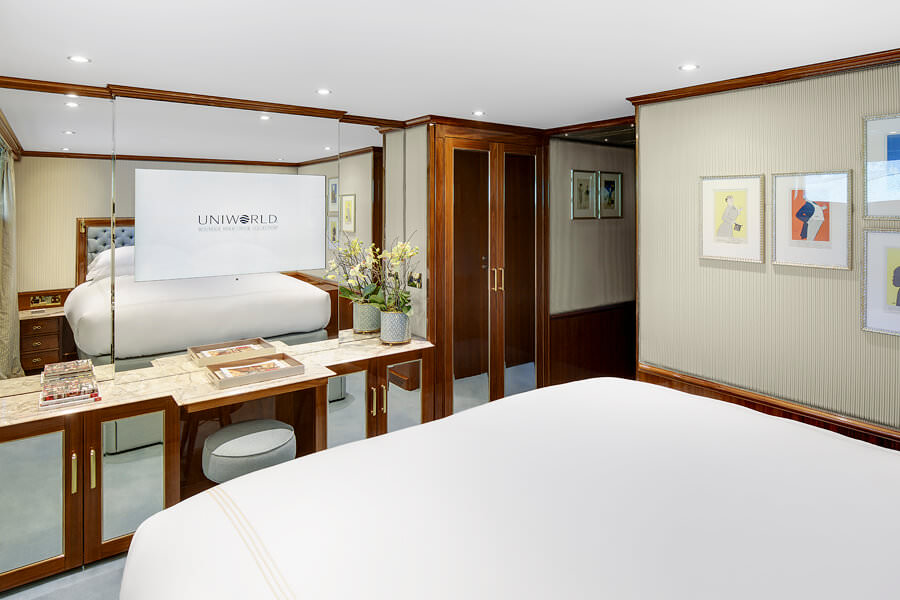 Category 5
$3699 Per Person
---
Pricing based on double occupancy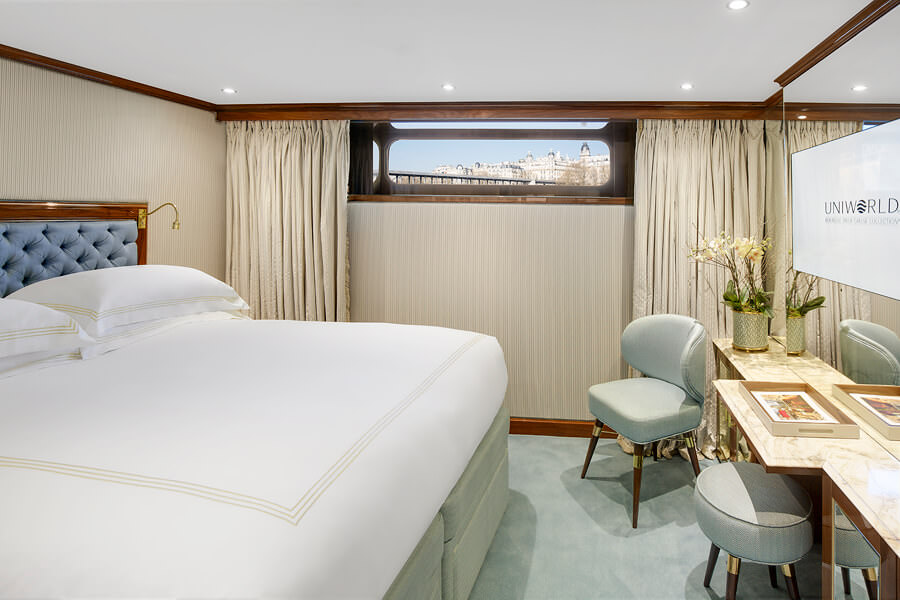 Category 4
$3799 Per Person
---
Pricing based on double occupancy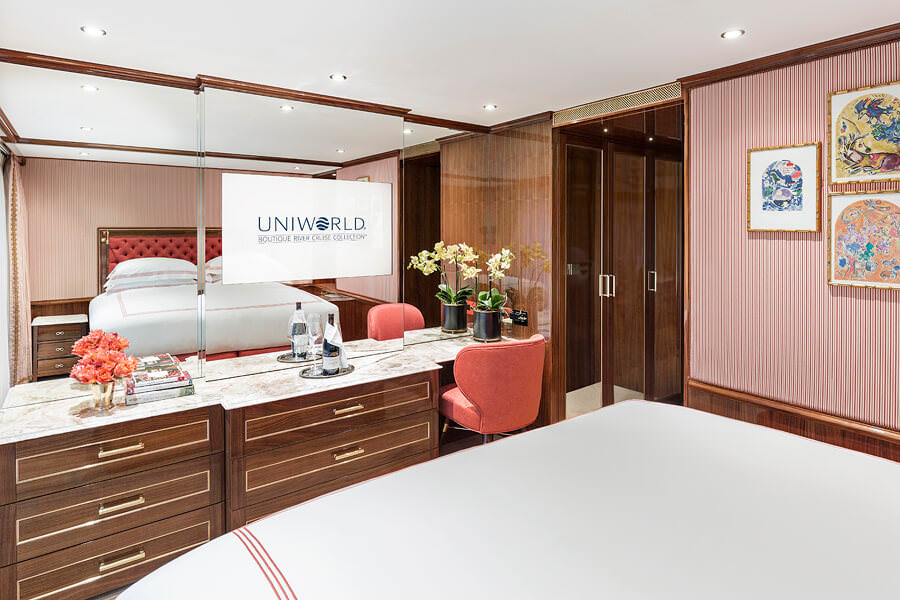 Category 3
$4599 Per Person
---
Pricing based on double occupancy
Category 2
$4799 Per Person
---
Pricing based on double occupancy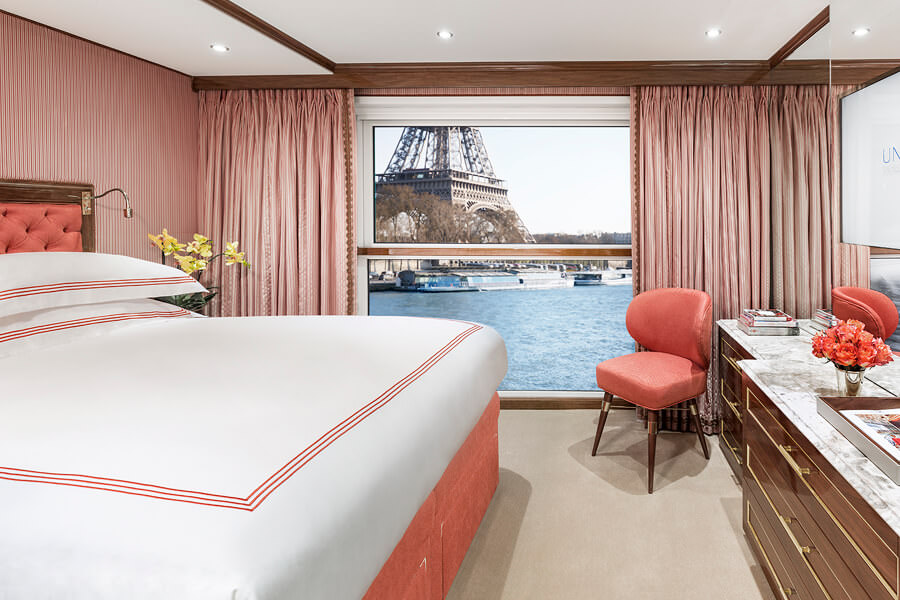 Category 1
$5199 Per Person
---
Pricing based on double occupancy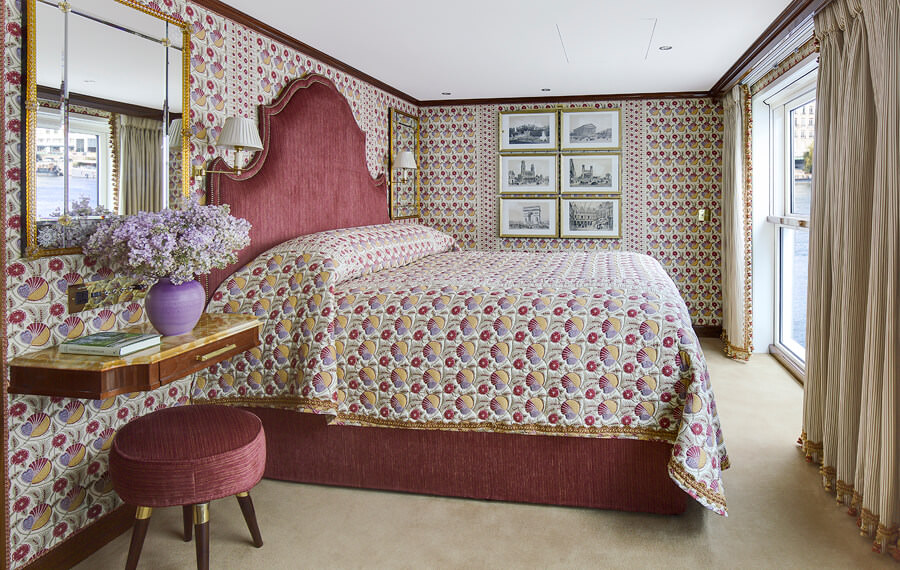 Suite
$7099 Per Person
---
Pricing based on double occupancy
Booking FAQs
1Pricing
Pricing above is based on double occupancy in a stateroom*.

Single Occupancy Rates:
Category 5 - $5598 Category 4 - $5698
Category 3 - $6498
Category 2 - $6698
Category 1 -$7098
Suite - $16598

Note that all pricing does not include $140 per person port taxes & fees.


2What is included on the cruise?
• 6 days of personalized excursions, led by English-speaking local experts
• Visits to 2 UNESCO World Heritage sites
• All gratuities, both onboard and onshore
• All scheduled airport transfers
• Impeccable service with one of the highest staff-to-guest ratios of any other cruise line
• In-suite butler service
• Elegant and well-appointed riverview staterooms and suites, with the finest linens, towels and Savoir® beds for an incredible night's sleep
• Unlimited beverages, including many premium spirits and regional wines
• Delicious onboard dining
• Onboard fitness center
• Onboard exercise and wellness classes
• Shipwide Wi-Fi access
• Onboard entertainment and Signature Lectures
• Bicycles and Nordic walking poles for onshore use

3Additional Amenities
West University Travel guests will receive a $200 shipboard credit per person
4Why do I need to fill out this contact form?
Filling out this contact form ensures that we have all of the correct information when making your reservation; it is easier for us to confirm that we have the correct birth dates and name spellings via this form than over the phone. However, if you experience problems filling out the form below or are uncomfortable with sending this information electronically, you may contact West University Travel directly via our office phone.
5What is travel insurance and why should I purchase it?
We encourage you to purchase travel insurance to protect the investment made on this trip. If something goes wrong—if your trip is interrupted or if you have to cancel due to illness, injury, or other covered reasons—you can recover some or all of your costs. Additionally, trip insurance provides medical benefits and coverage when traveling internationally that your own medical insurance may not cover. If you would like more information on travel insurance coverage and cost, please indicate so on the contact form below or when you call the office. Insurance must be purchased within 14 calendar days of making your booking to receive coverage for pre-existing conditions.
6Travel Requirements
A passport is required for travel to France. You are responsible for ensuring that your passport is valid and will not expire within 6 months of returning.
---